July is the final month of our Summer Reading Program—for both kids and adults. If you haven't signed up yet, stop by Beavercreek Community Library and do it right away! You'll not only get fun prizes for reading, but you can also attend great events—all for free.
Beavercreek Community Library's staff is so excited about the Summer Reading events in July that we wanted to share our favorites with you.
---
"I am very excited for all of the 60th anniversary celebrations we have planned, especially the community art project on July 1st. After a tumultuous start to the summer in Beavercreek, it will be good to gather and create something beautiful."
Julie Gannon, Youth Services Librarian
---
"I'm looking forward to Moon Music because I enjoy listening to classical violin music, and I'm curious to find out what the musician's interpretation of celestial music will be."
Jennifer Justice, Circulation Clerk
---
"I can't wait for the Escape Room: Intergalactic Space Station program on Saturday, July 27. We'll have two programs—one for adults at 12:30 and one for millennials at 2:30. I love the thrill and challenge of an escape room, and with a space theme, it's perfect for this year's Summer Reading Program theme—A Universe of Stories!"
Nancy Madden, Head Librarian
---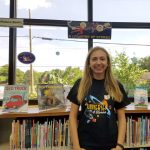 "I'm excited for the Ukulele Jam Session at Dominick Lofino Park because it seems like a really cool program where folks will get to meet new people!"
Jennifer Meek, Aide
---
"I'm excited for the Moon Music because it is always fun to hear the library filled with music. It's a wonderful treat to hear great music while I'm working."
Christian Shepherd, Aide
---

Join us for these spectacular Summer Reading events. We can't wait to see you at your Beavercreek Community Library!