Welcome to Beavercreek Library's "Learn to Crochet" adult take-and-make!  Never crocheted before?  No problem!  We'll provide you with all the resources you need to create your first project: a dishcloth using the single crochet stitch.
Completing your project is as simple as 1, 2, 3!
Pick up your project materials at the Adult Services Desk of the Beavercreek Library.
Complete your dishcloth using the instructions below.
Post your completed project on the Greene County Public Library Facebook page!
---
Once you have your materials, continue below for instruction on how to complete your project!
---
Before we get into the project, let's start with some of the basics of crochet.
Supplies:
100% cotton yarn (provided in kit)
Size H (5 mm) crochet hook (provided in kit)
Scissors
How to read a crochet pattern:
Crochet patterns are full of abbreviations and symbols and can appear to be in a language all their own.  But never fear!  You can become fluent in crochet lingo just by becoming familiar with these terms (there are many others, but these are the basics):
beg = beginning
ch = chain
dc = double crochet
lp = loops
rep = repeat
sc = single crochet
sk = skip
sl st = slip stitch
sp = space
st = stitch
sts = stitches
tog = together
yo = yarn over
Crochet basics:
The video and images below will teach you about making slipknots, yarning over, and making a chain.  A chain is the foundation of all crochet projects. 
How to make a slipknot:
How to yarn over (yo) and pull up a loop:
How to make a chain:
Instructions:
First, make a slip knot on your crochet hook.  Next, create a chain of 33.  Once you have your chain completed, you are ready to move on to the first row (or "foundation row") of our project.  The first row can be tricky, but don't give up!  Crocheting will become easier and much more enjoyable during row 2 and beyond!
This video and graphic will show you how to crochet a single crochet stitch in a foundation row.  Single crochet is the most basic crochet stitch and all other stitches are some modification of this stitch.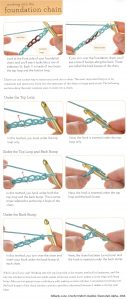 You will single crochet in all of the chains starting with the second chain from the hook.  You will end up with a total of 32 single crochet stitches.
When your first row is completed, make one chain (yarn over and pull yarn through loop).  This will give you enough slack so that you can turn your project horizontally and begin the next row.
Once you've turned your stitches, you can begin row 2.  You will insert your hook in the space under the front and back loops of the first stitch (ignore the chain you just made so that you could turn).  See image below.
Continue making single crochet stitches all the way across the row.  At the end of the row, chain one stitch and turn.  Repeat until all 36 rows are completed.
If you made it this far, congratulations!  There is enough yarn in the ball provided for 2 dishcloths.  You'll find the second one goes much quicker!
We'd love it if you posted your finished dishcloths to the Beavercreek Public Library Facebook page!
Sources:
Pattern: https://midwesternmoms.com/quick-and-easy-crochet-dishcloth-pattern/
Instructional images:  Gilbank, June. Crochet (Idiot's Guides). Illustrated, Alpha, 2014.