Explore oceans of possibilities at your library this June and July!
Win your first prize today!
Preregister on Beanstack, opens a new window (or download the app for Apple, opens a new window or Android, opens a new window devices) to help you get ready for Summer Reading Club and to enter weekly drawings through June 1! With Beanstack, you'll be able to record your reading, track your progress to earn prizes, enter future reading challenges, and connect with friends!
And as always, you can also record your Summer Reading Club progress through a print log from your library, available beginning June 1.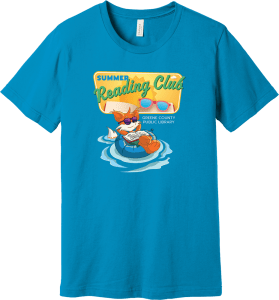 Start your Summer Reading Club experience with a free shirt (while supplies last) at these community kickoff events!
Plus, community program cards for June/July are now at your library with events and activities in Beavercreek, Cedarville, Fairborn, Jamestown, Winters-Bellbrook, Xenia, Spark Place in Xenia, Yellow Springs, and online with visits from R.L. Stine, Mary Pope Osborne, Traci Chee, and others!
Then get ready for Shark Week, LAST BITE, from July 25-30!
And finally, enjoy community visits from the Newport Aquarium in August!