Why the change?
Because we want to build you the best digital catalog with the shortest wait times possible! 
We are always evaluating new and more cost-efficient ways to deliver your catalog, both physically and digitally. While OverDrive has been a great service, it has a high cost – forcing us to share an account with a consortium of other libraries. This shared account limited our ability to create a catalog made just for you and also made for longer wait times. 
How does this change improve my experience?
A Hoopla catalog made just for you means more of the titles you want, available sooner! 
Hoopla has been a great service for Instant Borrows of eBooks, audiobooks, comics, music, movies and TV, and now has expanded their catalog with Flex titles that work similar to how you borrowed materials from OverDrive. Everything will now be available to you from a single app with shorter wait times, a catalog more adapted to what you want and at a savings that can be invested back into our community through other great programs and resources!
How do I sign up?
Signing up is an easy three-step process!
Download the app or go to HooplaDigital.com.
Create an account and log in with your library card.
Borrow and enjoy!
Will my Holds, Borrowing History and Wish List from Overdrive automatically transfer to Hoopla?
Unfortunately, Holds, Borrowing History and Wish Lists are not able to be automatically transferred to Hoopla. Overdrive is available through the end of January to give you time to place holds with Hoopla. If you don't see a title, you can recommend the library to purchase as addressed in the question below.
You can also personalize your Hoopla account through using Favorites. Adding Favorites is as easy as searching for an author, series, actor, or more and simply click the Heart icon for their profile.
---
What devices does Hoopla support?
Hoopla works with most devices and non-dedicated eReaders! For a full list, visit Hoopla's FAQ page.
Does Hoopla support Amazon Kindle dedicated e-readers (without web browser or app store access) such as the original Kindle, Kindle Paperwhite, etc.?
Unfortunately, because Hoopla has its own e-reader built into its Kindle Fire, IOS and Android apps, and does not rely on native e-reader technology, it does not support dedicated e-readers, such as Kindle, Kindle Paperwhite, and other iterations.
How is our Hoopla catalog different from before?
If you have been a long-time user of Hoopla, you are likely familiar with Instant Borrows, identified by the lightning icon. Instant Borrows are always available and allow for simultaneous usage by multiple patrons, assuming you have monthly borrows remaining (reset at the beginning of the next calendar month). Unused Instant Borrows will not roll over into the next month and returning an Instant Borrow will not free up an additional Instant Borrows.
Hoopla is now also offering Flex Borrows, identified by the refresh icon. Unlike Instant Borrows, only one person at a time may borrow a Flex Borrow. If a copy is out on loan, it cannot be borrowed again until returned. If a title is currently out on loan, you may place a hold on the title. This is similar to how physical books are loaned out by the library. If all copies of a Flex Borrow are out on loan, "Wait List" will be displayed above the title artwork.
How do I place a hold on a title?
Placing a hold is easy! Just click on the title to go to the detail view. Below the Hold button, there will be a display of how many people are waiting per copy. Select the Hold button to place a hold on the title.
---
One of the books I want isn't in the catalog. How do I request a title?
With Hoopla we can add new titles faster than ever!
As always, you're able to use GreeneLibrary.Info to request material, but Hoopla also allows you to request titles directly from their platform. If a desired title does not show up in your search results, you can expand your search to include titles available to "Recommend To Library" for purchase. Only two more clicks are needed to recommend your title for inclusion in our catalog!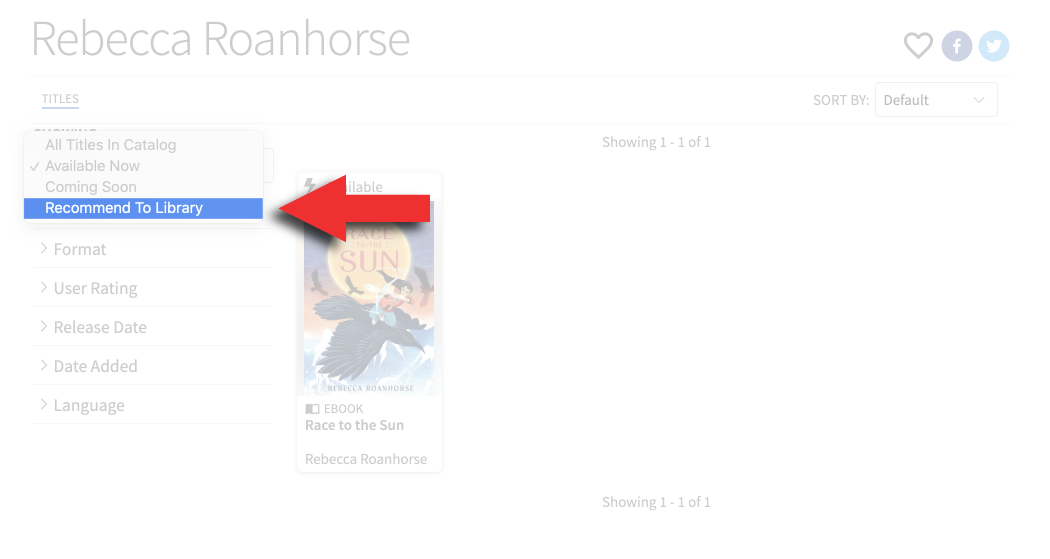 ---
---
How many titles can I borrow or hold each month?
Hoopla Flex Borrows allow you to borrow up to 10 titles and place as many as 10 holds at a time. You can also use up to 25 traditional Hoopla Instant Borrows. This makes for a total of up to 35 titles per month!
How does Hoopla handle my privacy?
Your account information as well as your borrowing history is private. No one can see what titles you have borrowed but you. For more information, you can see Hoopla's privacy policy.
When does the change take effect?
You can access all of Hoopla's materials now. OverDrive and Libby by OverDrive will be available through January 31.
I still have some questions.
We're here to help! Contact your community library's reference desk, use our contact page or visit Hoopla's FAQ page.
, opens a new window