This Month's Organization:
Operation Gratitude sends service members letters from grateful Americans and blank cards for their own personal use.
Instructions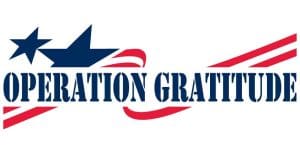 What should my card look like?
They should be blank inside with a beautiful design on the front of the card. We encourage you to use your talents in embossing, cut-outs, stamps, scenic pictures you have taken, or even your own artwork. Including a message on the front that the service member can use to convey his or her feelings to loved ones is a great idea. Some ideas include "Thinking of You", "Missing You", "I Love You", or a simple "Hello". Or have some fun and find some humorous stamps and sayings to put on your cards.
Each card should measure between 4.25″ x 5.5″ to 5"x7" and include an envelope so the card can be mailed home. Please do not put your card in the envelope, but instead, place the card under the flap. This makes it easier for our letter screening team to determine if the card is a letter to a Service Member/First Responder or a blank card our troops can send home.
If you use any 3D embellishments such as ribbons, lace, bows, or 3D stickers, then please ensure those decorations are securely attached to the card. We want your card to be as beautiful as the day you made it when we send it to our troops, and when they mail it to their loved ones.
You are welcome to put your cards in a clear stationery card sleeve for extra protection, but it is not required.
What should I avoid using?
Please avoid using pearls or rhinestones as they almost always break off, and do not use any type of glitter. No matter how careful you are with your glue, glitter tends to rub off the cards covering the rest of the items in our Care Packages.
Please avoid religious icons and bible quotes on your cards.
Should I make holiday and event cards?
While we will accept cards that are holiday specific and/or event related, ie: Birthday, Anniversary, Christmas, etc, we would appreciate you creating cards that our troops are able to mail at any time of the year.
Should I include my contact information on the card?
You are welcome to include a small note on a separate piece of paper inside the card or put your name and email address on the back of the card. This will allow our Troops to send you a thank you note if they would like to. We cannot guarantee that you'll hear from them, but we hope you'll give them the opportunity.
Project Type:
Card making
Deadline:
End of the month. Please drop off at any Greene County Public Library location in a clean zippered plastic bag (or something appropriate to help us keep your work clean and undamaged).