This Month's Organization:
The mission of The Confetti Foundation is to supply birthday parties to children to have to spend their birthday in a hospital, pediatric oncology clinic or hospice facility. The foundation was started with the hope that families will be able to shift their focus from their child's sickness for just 30 minutes and celebrate. Although the party is not a cure, it will be a welcome distraction and a good reminder that every child deserves to be celebrated. Through the partnership of children's hospitals, pediatric oncology clinics and pediatric Hospice facilities in the United States, The Confetti Foundation's goal is to provide a themed birthday party, positive memories, and normalcy during a difficult time. The cards people make and donate are a big part of this celebration.
Instructions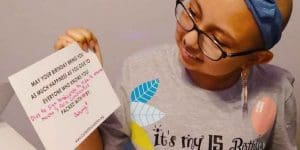 Make sure they say HAPPY BIRTHDAY! (you can sign them with your name and send any positive messages or jokes, just make sure HAPPY BIRTHDAY is included)
Get festive! Use stickers, crayons or markers! (no glitter, please)
Sign the cards with your name (first is ok!) and your city/state, our kids love seeing the different places people are thinking of them
They do not have to be actual cards, they can be folded over paper or construction paper (no bigger than 5x7)
No envelopes, please
Please DO NOT include any religious messages in your cards
Please DO NOT write GET WELL in the cards
Keep it positive and cheerful!
Project Type:
Card-making
Supplies You'll Need:
Anything for card-making! Markers, crayons, colored pencils, stamps, etc.
Deadline:
End of the month. Please drop off at any Greene County Public Library location in a clean zippered plastic bag (or something appropriate to help us keep your work clean and undamaged).