This Month's Organization:
PROJECT CHEMO CROCHET is a new initiative, started by the Pink Warriors, to crochet blankets to comfort chemo patients during treatment.  These homemade blankets are designed to make the patient feel safe and warm knowing that they are surrounded by the love of support of so many near and far.
Instructions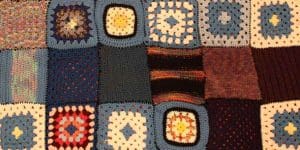 Can you Crochet? Or...can you figure out how to crochet? Can you make a square out of yarn? It doesn't matter the color. It doesn't matter if you missed a stitch. It matters that you CARE.  Anyone can do this, yes even you, men! Our idea is to collect 9in by 9in squares and stitch them together to make blankets.  These blankets will be sent to cancer patients WORLDWIDE!
Each square should be 9 inches by 9 inches.  It does not matter the yarn, color, or stitch size.
Pattern URL: http://www.projectchemocrochet.com/site/
Project Type:
Knitting, crochet
Deadline:
End of the month. Please drop off at any Greene County Public Library location in a clean zippered plastic bag (or something appropriate to help us keep your work clean and undamaged).