This Month's Organization:
Established in March of 2016, Bring Smiles to Seniors, Inc. is a registered 501(c)(3) non-profit organization that serves senior communities across the country. Our staff consists of volunteers who are dedicated to supporting seniors in nursing homes and assisted & independent living communities, as well as those that are homebound or participating in elderly nutrition programs. Bring Smiles to Seniors works with schools, civic organizations, companies and government employees to make or decorate greeting cards that are donated to us. Our organization receives donated cards from card artists all over the country and beyond.
Instructions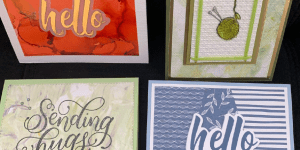 Bring Smiles to Seniors welcomes handmade cards that are either blank or have messages written inside. It is totally acceptable to sign your name on the card. They just ask that you send the card unsealed. General everyday "thinking of you" cards are best since they don't have any personal information on the community residents. They do provide donated birthday cards to communities that receive our deliveries so their residents can use them.
Project Type:
Cardmaking
Supplies You'll Need:
Cardmaking supplies.
Deadline:
End of the month. Please drop off at any Greene County Public Library location in a clean zippered plastic bag (or something appropriate to help us keep your work clean and undamaged).