Family Violence Prevention Center of Greene County
This Month's Organization:
The mission of the Family Violence Prevention Center is to reduce family and relationship violence and its impact in Greene County through prevention, intervention, safe-housing and collaborative community programs.
Craft:
Greeting card, hat, gloves, scarf, pet crate mat or blanket
Instructions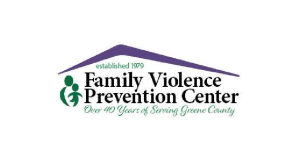 For greeting cards: Send messages along the lines of "Happy Hello," "Thinking of You," "Sending Sunshine," "Sending Smiles," and other general, positive sentiments. Birthday cards are also encouraged. Keep the inside of the card blank. Keep embellishments secure and no glitter that will fall off (glitter glue that sticks securely is ok). Include an envelope. These are meant to used in place of professional greeting cards, so please use paper craft skills and refrain from using lower quality materials like construction paper.
For hats, gloves, and scarves: Any size, any color is great. All sizes (adult and juvenile) and lots of variety in style and color schemes bring joy to the residents. Use yarn that is easy care.
For pet crate mats, there are many patterns online. We have listed some possibilities here:
https://www.playbarkrun.com/diy-dog-crate-pads-beds/ (patterns #1 & #2)
https://www.diycraftsy.com/dog-bed-patterns/ (pattern #5)
http://missfrugalmommy.com/no-sew-dog-bed/
https://empressofdirt.net/diy-sweater-pet-bed/
https://www.itsoverflowing.com/diy-dog-bed-plans/ (pattern #12)
Project Type:
Cardmaking, crochet, knitting
Deadline:
End of the month. Please drop off at any Greene County Public Library location in a clean zippered plastic bag (or something appropriate to help us keep your work clean and undamaged).