Mighty Miracles Foundation
This Month's Organization:
The Mighty Miracles Foundation's vision is to support families with resources while in the NICU. Educate families on life in the NICU. Empower families to be an advocate for their child. Support local NICUs & local NICU families. Ensure that families understand they are not alone & have available resources. Celebrate each life no matter how small or short.
Instructions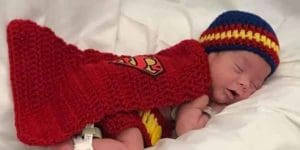 Three notes from the organizers:
If knitting or crocheting, stitch fairly tightly, not loosely.  Make the heart 4-5 inches in size at most.
If sewing, the best fabric to use is soft flannel. Make the heart up to 7 inches, if sewing.  These are flatter and can be larger than if knitted or crocheted.
Under NICU Patterns, there are four different Bonding Hearts patterns.
Project Type:
Crochet, Knitting, Sewing
Supplies You'll Need:
Varies
Deadline:
End of the month. Please drop off at any Greene County Public Library location in a clean zippered plastic bag (or something appropriate to help us keep your work clean and undamaged).