This Month's Organization:
Hugs through Shrugs is a 501(c)3 charity based in New Jersey, building a community supporting moms with critically ill hospitalized children and those whose lives have been affected by pediatric cancer. Our signature shrugs wrap these moms in our love. To date, we've sent over 1,000 Hugs through Shrugs to moms staying in children's hospitals, Ronald McDonald Houses, through several charities and individual requests.
Instructions
A stretchy garter stitch with 2 strands of bulky yarn on US19 needles will grow when worn. If your measurements are 28" x 50" laying flat, the shrug will stretch and most likely be a great sized shrug. However, a stockinette shrug in with a tighter gauge might need to have a finished width of 53-55" to be adequate for a mom to wrap up in. All tunisian shrugs need to be 55-56" wide as there is very little stretch in tunisian simple stitch.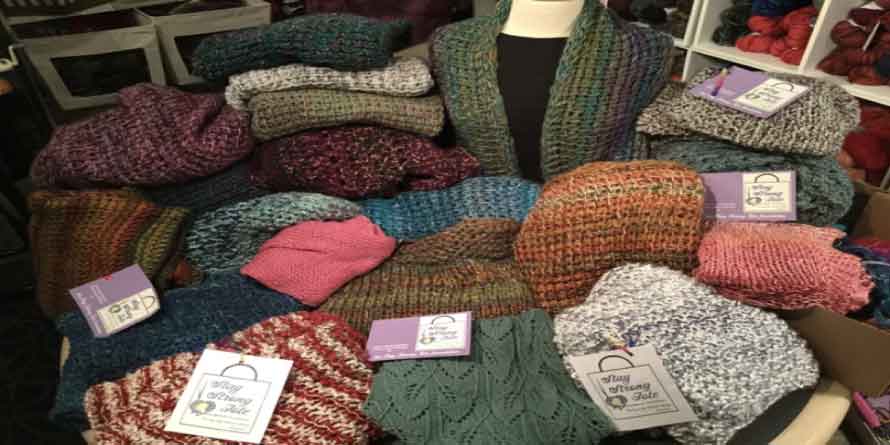 Keep in mind our intention, wrapping these moms in a great big hug.  When budgeting your yarn - and time - focus on the width (wrist to wrist) measurement. Even a finished length of 27" is bound to stretch some when worn and if you run short on yarn, you can always add an accent yarn to finish off your length (top to bottom measurement when worn) and make an awesome collar! So casting on and working horizontally is a good way to get started until you know how much yarn you'll need to get the correct finished measurements. Shoot for 53" - and take notes of what worked and what didn't. Only you will know what works for you.
Measure your finished fabric and take note of how it drapes when worn. Make adjustments on your next one. If measurements are between 50-55" x 28-30" it will make a great shrug for our  donations.
As a brand, we are hoping for some uniformity. Please consider lofty bulky yarns and double stranding to create a cozy fabric.  Lion Brand Homespun, Scarfie and Shawl in a Ball combine nicely as do Loops and Threads Barcelona, Facet Stones and Red Heart Dreamy and Unforgettable.
Project Type:
Crochet, Knitting
Supplies You'll Need:
Yarn, Crochet hooks or Knitting needles
Deadline:
End of the month. Please drop off at any Greene County Public Library location in a clean zippered plastic bag (or something appropriate to help us keep your work clean and undamaged).