Craft: Traveling Pillowcase
This Month's Organization:
At Enchanted Makeovers, we transform long term shelters for women and children into places of peace and possibility. A humble pillowcase can transform the way women and children see their shelter bed by turning it into a place to travel away from your circumstances and into your dreams. These bright and patterned pillowcases are handmade with love. The Traveling Pillowcase Project will remind every woman and child the wonderful power of our minds and how this one amazing tool can bring happiness and joy even through the hardest times.
Instructions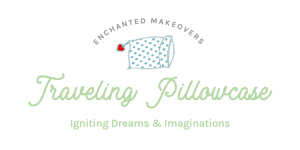 We are looking for brightly colored and fun patterned fabric for our pillowcases. The more fun the better! Think: rocket ships, superheroes, unicorns and animals. When you're at the fabric store, really think about what you're picking out. Make it something that you believe will help transport women and children to a different place in their minds. While sewing is required, this is a simple project with an estimated time-frame of 10-30 minutes (depending on sewing ability). While sewing machines are recommended, pillow cases can also be hand-sewn.
Pattern URL: https://www.allpeoplequilt.com/million-pillowcase-challenge/our-top-20-pillowcase-patterns
Project Type:
Sewing
Supplies You'll Need:
Sewing supplies.
Deadline:
End of the month. Please drop off at any Greene County Public Library location in a clean zippered plastic bag (or something appropriate to help us keep your work clean and undamaged).